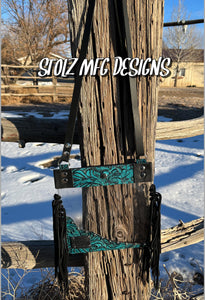 Perfect bag for that Rodeo, Concert, Football, Baseball or any other event that now has the clear bag policy! Get your Stadium Bag today!
Embossed leather, Rivets and fringe, button closure,
30" - 52" adjustable black leather strap
Approximate Measurements:  10" long, 10" tall 
Each bag is individually handcut and sewn by Danae Stolz in Kersey, Colorado
The purse you see in this picture will ship right to your doorstep!
Ships in 2-3 days